We will do anything to go unnoticed
Can a shin guard make you a better player? Yes, we believe it can.
Many other areas of the sport have developed immensely, with new materials and new details popping up every season. But not the shin guards. The market is still dominated by low standard products made of plastic. Shin guards have an ungrateful role to play in the world of football. Ideally, the product should not be noticeable or visible, but it must still protect the player from intense duels and hard play.
This has been fundamental when we developed Monolit, a product that provides maximum protection with minimal impact on your playing style. A unique construction crafted from carbon fiber composite makes Monolit the lightest, safest, and most comfortable shin guard on the market.
Low weight and superior ventilation allows for greater speed and stamina. The safe and reliable carbon fiber construction allows you to play your game without holding back.
Monolit. Bring it on.
Go all in
Monolit is made from carbon fiber and, unlike conventional shin guards, spreads the force from an impact over the entire protection area, which means you can engage in some serious tackling without worries. But please make sure to go for the ball!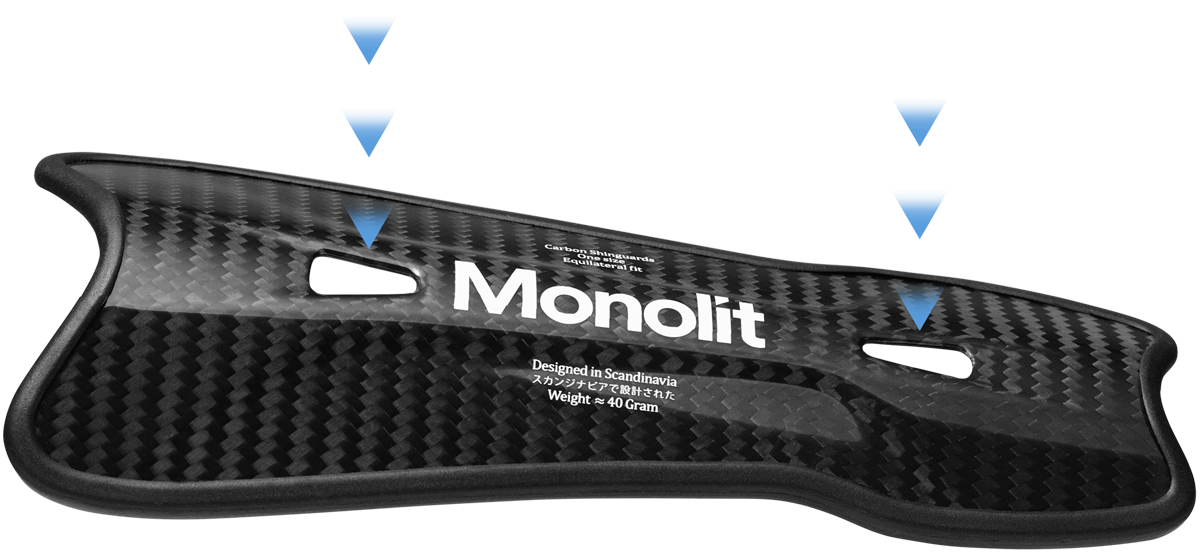 Play it cool
Our shin guards cool down your legs. This is done by means of a minimal contact surface and through ventilation that carries away humidity and heat. Better cooling means less energy wasted and more stamina. Your shins will be eternally grateful to us.

Sometimes it's the inside that counts
The protective edge of the shin guard is shock absorbing and has also been developed for optimal fit, for increased ventilation, and for reducing bacterial growth. The unique construction helps you avoid build-up of sweat, unpleasant odors, and the risk of eczema. Good for you – maybe even better for your locker room mates.

Feather weight
Monolit is one of the lightest shin guards in the world. The unique material and design has enabled us to bring the weight down below 40 grams per shin guard. Spread over an entire match, this can spare you a ton of extra weight. We can promise you that less weight will give you more speed and stamina in a match, but on the running track you're on your own.
Monolit shin guards are designed to do their job just as well on your left as on your right leg. You can strap them on quickly without having to think about which one goes where. We call it Equilateral Fit.
Carbon made
Monolit is made from carbon fiber composite, a mixture of carbon fiber and epoxy, resulting in a remarkably tough and light construction.
The man behind Monolit is Dieter Bergmann. He makes a living as a pilot, but he is also an inventor and a motorcycle enthusiast. He has, among other things, built one of the world's lightest motorcycles – with carbon fiber. The story of Monolit started when his son Oskar was having problems with eczema from conventional shin guards. Dieter realized that he could apply his expertise in composite materials to create a much improved shin guard, one that was lighter and stronger, as well as providing better ventilation.
Dieter's simple but genial idea was to use the lightest materials to build a shin guard that provided maximal, weight-optimized protection with a minimal contact surface, resulting in reduced energy loss. Dieter also built in a unique ventilation grid which boosted these factors.
The product has been developed and tested in close collaboration with a number of elite players, among them former Arsenal player and World Cup bronze winner Anders Limpár. The result is Monolit, the world's best football shin guard. Monolit was launched in the spring of 2018. The unique construction is now patented in the USA and in Europe.
And yes, Oskar's problems with eczema are history, thanks to Monolit.
Back to top

▲
Webshop
You can buy Monolit's
products in our webshop.
Visit Webshop
Monolit Sports AB
Box 60
182 05 Djursholm